It's not too often that I fall head over heels for a dog like I did for this sweet girl. I'm back at school and suffering from extreme dog withdrawal, so I took myself and my boyfriend to the animal shelter to walk dogs the other day. While we were there we met this girly and took her for a walk.
She's not much to look at - cute, but maybe not the most stunning dog that I've ever seen. But I took one look at her in her kennel and said to my boyfriend, "now
that's
a good dog."
In her kennel she was quiet and unassuming, but you could tell she just wanted attention. No barking, no bouncing up and down... just sitting there at the front of the kennel looking at us. When we went to pet her through the bars of the kennel, she turned sideways like a cat to let us rub her neck.
She's timid - definitely a "soft" dog, but while most of the dogs that I've ever walked at the shelter are more concerned about being FREE and getting to smell all of the new smells outside, this little nameless girl wanted nothing more than to be as close as possible to one of us. She doesn't walk very well on a leash - not because she pulls, but because she's a bit like walking a mexican jumping bean - much like a puppy who's never walked much on a leash before. That said, EVERY time we kissed at her to come closer or called her, she scooted right to us for pets and stopped thinking about the leash. By the end of the walk, she was mostly walking in a straight line.
At one point my boyfriend was crouched down to pet her and she knocked him over into the snow and crawled into his lap and then curled up in a little ball there.
Can you tell I want this dog?
I went back to visit her yesterday as well, but didn't walk her because there were plenty of other dogs who needed the walk more and I felt bad asking to take out one that had recently been walked.
She's in a small ruralish kill shelter. I wish wish wish I could have my own dog right now.
She appears to be a medium/small farm collie mix and seems to be young - my rough guess would be ~ a year or a little less. She was only marked as available on Janurary 18th, so hopefully she still has quite a bit of time on her, but who knows.
I apologize that the photos will be huge: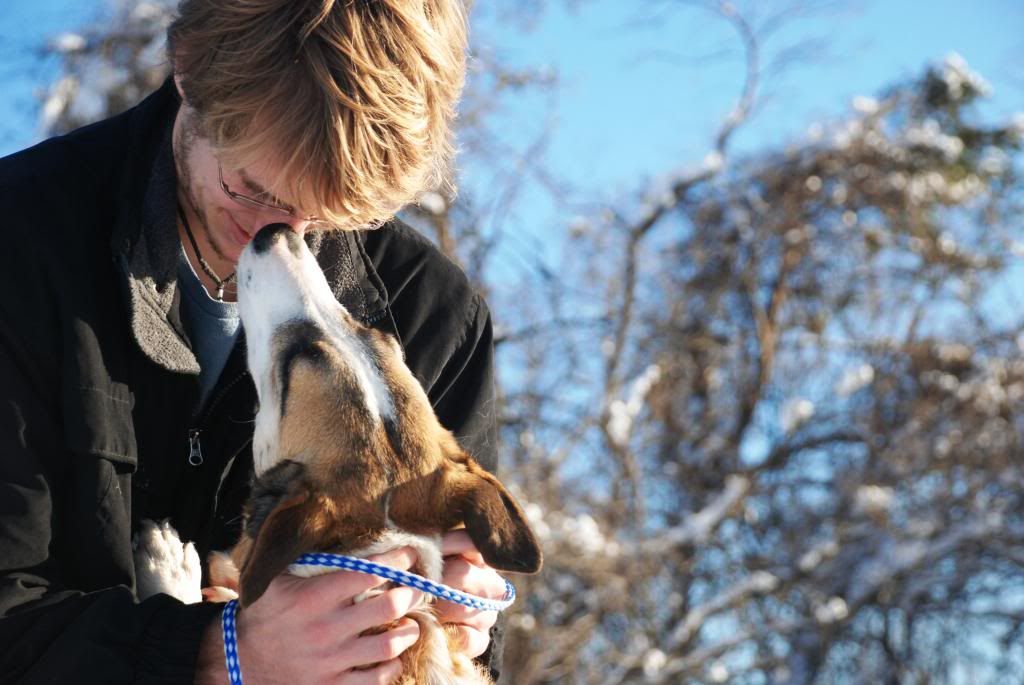 somebody help her??