We had Happy Express when I was a kid. Big collie, great dog, perfect with kids which was good since my mom did home daycare. He just loved kids and I loved him. He would let you lay your head on him like a pillow and he just loved it. We used to lay on him and read him books and he would just lay there wagging his tail. He lived a long time but got really sick... he got some kind of immune disease, I remember coming home and walking the yard with him to see if he had thrown up and how often we would find piles of vomit. He got flies all over him because he wouldn't even move to keep them off him and they got in his fur and made him such a mess, he had to be shaved down into a lion cut so his infected skin could breathe to heal. Finally my dad took him in to the vet and when the vet told him he just wasn't going to get any better he decided to put him down.
The story they told me and my sister was that my dad and the vet left the room and when they came back in Happy had died. My dad thought if we knew he put him down we would hate him so they lied. I didn't hear the real story until I was in middle school... I went to work with my grandma for a "take your daughter to work day" and was drawing pictures of dogs, and my grandma was telling a co-worker about how I liked dogs and we had one and my dad had him put down. I didn't say anything to her but came home and went to my mom like "What????"
My dad thought there would never be another dog as good as Happy, so even though my sister and I wanted another dog, he wouldn't get one. One year I wrote a letter to Santa, something along the lines of "Can you please bring me a puppy, and if you can't bring me a puppy, can you please bring my dog Happy back? He died and I miss him." My dad said to my mom "I guess I have to get her a puppy." But he didn't. =P
SO when my sister moved out she almost immediately went and got herself a sheltie (the "apartment collie") and named him Happy. Happy Conquistador - she picked the first name, her husband (now ex) picked the middle name. He was a TERRIBLE puppy, I stayed with my sister for Spring Break after she brought him home. HATED that puppy so much and my last night there I told him "I'm NOT going to miss YOU." He proceeded to curl up on my feet that night and sleep there. **** dog.
My sister didn't really know any better so she just got Happy from an ad in the paper, and she lived in St. Louis at the time. We are pretty sure he came from a Missouri puppy mill. Happy was HUGE even though he was the runt of the litter, he had hip issues and walked funny though we blamed it on him breaking his leg as a puppy, he was neurotic... not well built mentally or physically. He had a heart murmur. He threw up a lot, mostly if you didn't feed him "on time" but sometimes just to puke up bile. He was terrified of most other dogs and spent a long time after moving back in here with baby Auggie running AWAY from the puppy. He would sigh the most pathetic sighs. In the car he would whine a horrible, high pitched whine that we finally resorted to cranking the stereo REALLY loud just to drown him out. He would throw the water bowl when it was empty... not just paw at it, THROW it. He sat on steps like a person - all four feet on the floor, but his butt sitting two steps up.
I loved him despite everything, terrible dog that he was. He was special in being and he was special in my heart. He may have belonged to my sister but he was my dog too. I helped raise him as a puppy. I cared for him while my sister was here and for months when her dogs lived here without her. I miss him terribly.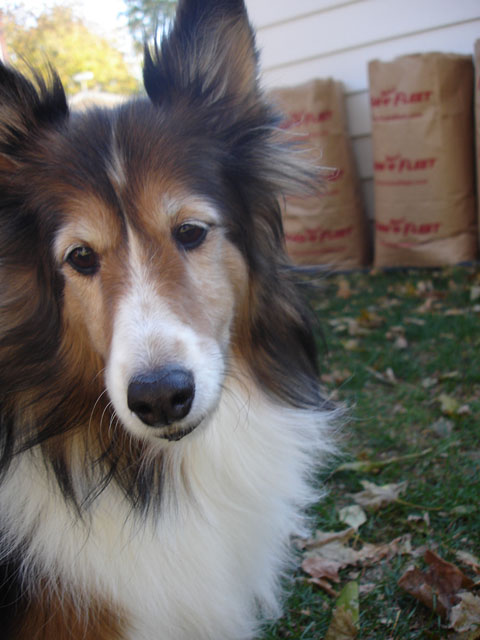 And then Kota. Kota my sister adopted out of a bad situation "for my mom," and when my dad said no she kept him. He was an old man who had been found wandering the streets, abandoned by his former owners and eating out of garbage cans. He never quit eating out of garbage cans. He also liked to steal any food you left out, he would systematically go through the house after you left to check all surfaces for food or even cans of soda. One day my sister left and Kota didn't realize I was still home, in my parent's office. Happy came running in, flipping out. I asked him what was wrong, he kept looking out in the other room nervously. I heard a "thunk" and got up to go see what was freaking Happy out... Kota had knocked a Mt. Dew can off a table and was busy drinking out of it as it spilled on the floor when he saw me. WHOOPS! (Happy was also a horrible tattle-tale.)
He was Auggie's hero but I've related that story many times I think.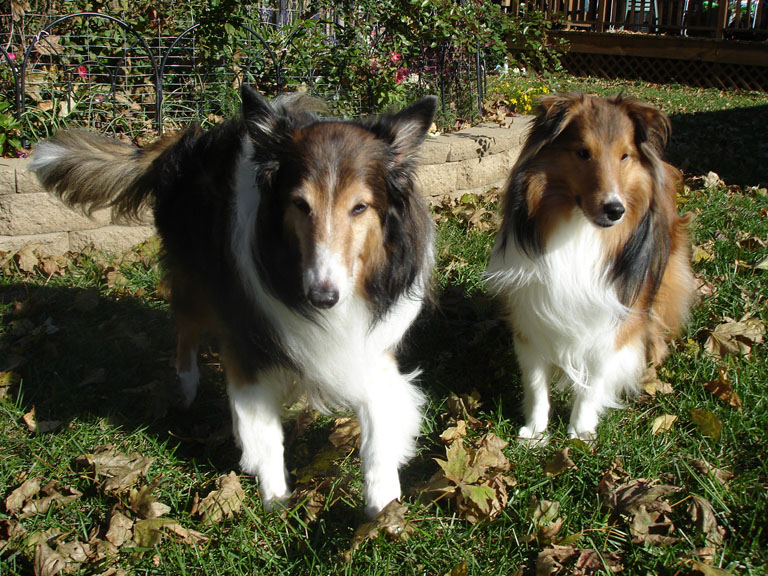 I miss my grumpy old man. I keep calling Auggie "grumpy old man" now as a homage, but man, I don't think there will ever be a grumpier old man than Kota, haha.
ETA: I read halfway through this thread and cried reading people's posts, cried writing this, went back and finished reading... just so many tears.