My name is Jeanine and I'm a new member here. I currently have five dogs and I would definitely consider them all hard keepers. I work for a vet so I tend to get the hard luck cases that no one else can afford. You know how the mechanic always drives the car that no one else can? Yeah, well that's me with dogs! I'll introduce them for you. My user name is sadly more of a memorial name as I lost my heart dog, Buford (Big B) in March to adnocarcinoma of the anal gland. That's me with him in my profile photo about two weeks before he passed away. He's been close on my mind a lot lately and I still miss him lots. *sigh* When Big B was diagnosed the wonderful Julie Austin came over and took photos of my whole crew for me....these are the photos from that shoot.
I currently have Joxer who is a Pit Bull/Boxer mix about 11 years old. Two years ago he was diagnosed with Lymphoma and eventually had to have the lymph node removed due to it growing to an alarming size. According to the pathology report the cancer was completely encapsulated in the node so he seems to be cured! Weird, I know and my doc has never heard of a case like this before. We adopted him from the Skagit Valley HS when he was about 10 months old: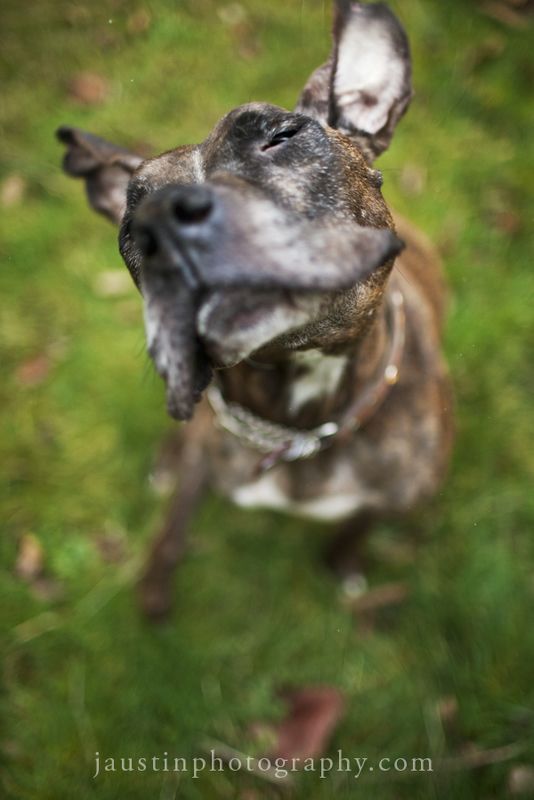 Patrick is an eight year old Boxer who was a very hard keeper. When he was a puppy I had a terrible time keeping weight on him and finally consulted someone about raw feeding and made the switch. It took almost 3lbs of raw a day just to maintain him and I had to up his food when he was going through growth spurts. About a year ago he literally choked to death on a frozen turkey neck and my husband was able to reach in and pull it out and I was able to get him breathing again....scary! He's been a lot less neurotic since then! He was a BYB ringworm infested puppy when we got him: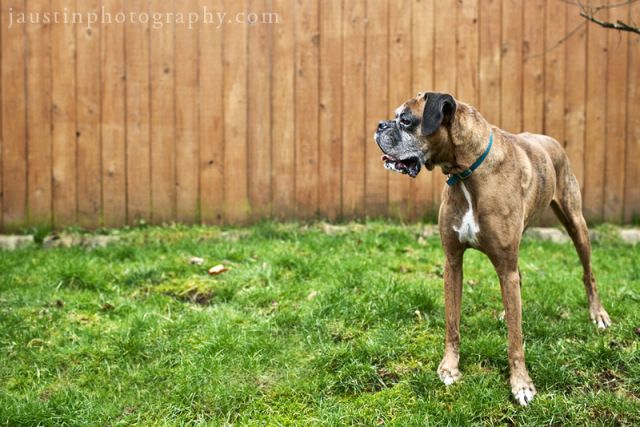 Minnie is a six year old Boxer girl who suffers from Addison's disease. We adopted her from a client at the vet office that I worked for at the time. She's quite the little princess and is currently my only female dog in the house. She rules the boys with an iron (yet dainty) paw. She was diagnosed with Addison's when she was just about two years old and we've been pretty successful in managing it. She currently also my only non brindle in the house and small at 40lbs: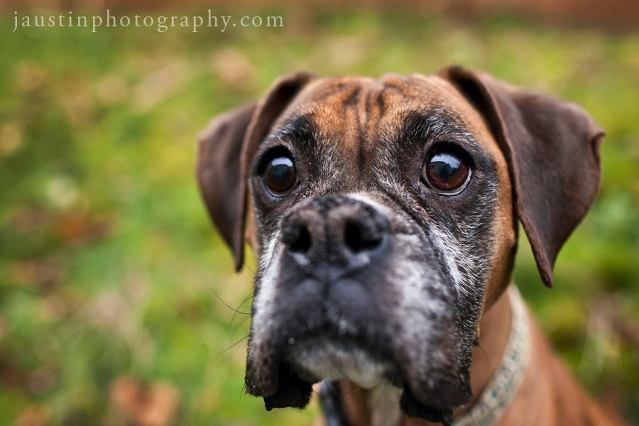 And we have Dash. Oh Dash. Dash was literally at deaths door when he was picked up as a stray in Clackamas, OR. Thought to be suffering from starvation and aspiration pneumonia the shelter director took care of him for three weeks or so and then sent him up to me. It turns out that he had no nasal passages and we thought it was a birth defect. Dr. Fry at Cascade Vet Specialists was kind enough to do surgery on him to create new nasal passages. Sadly, the histopath came back as a form of a benign tumor, a chondroma. The tumor grew back in about four weeks but Dash has an amazing will to live and knew from a wee pup to sleep with a toy in his mouth so he can breath. It hasn't really affected him much other than I have to watch out for him because he over heats easily. He's a spaz, diabolically clever and just a fun little dog to have around. He's tiny at 40lbs and ate a mini disco ball last Christmas.
This was what he looked like when taken into the shelter: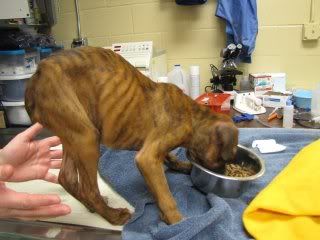 And now, he's funny looking but really it's a miracle that he's alive and lives a normal and happy Boxer life!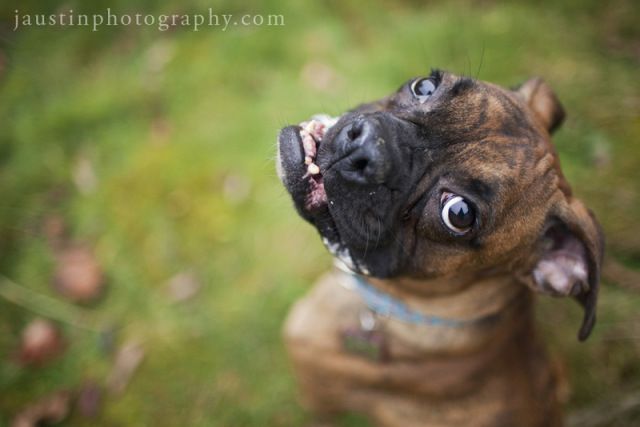 And lastly we have my most recent foster failure, Fergus the Pit Bull. Fergus was also taken into Clackamas Dog Services on the verge of starving to death. He steadily gained weight but does have some serious mobility issues due to some old injuries and arthritis. We had to remove several eye lid tumors and do some dental work once he was healthy and he had such a rough time with the anesthesia that we decided to skip neutering him. We guess he's 8-10 years old and he fit just fine into my household so I decided to keep him. He gets routine acu/chiro treatments and bi-weekly warm water therapy sessions. Here he was when first taken into the shelter: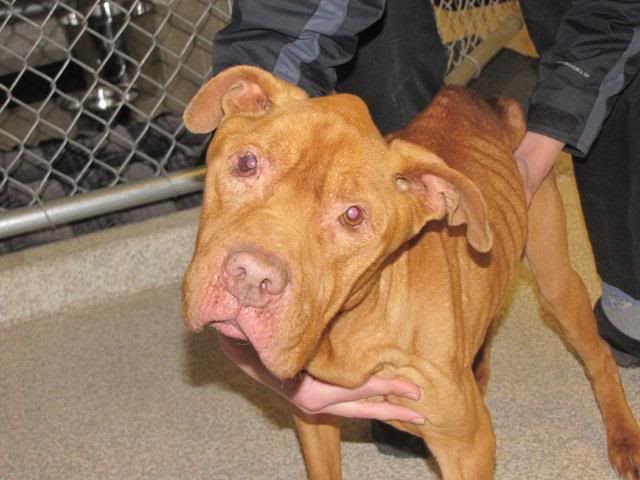 And once he started his rehab at my house: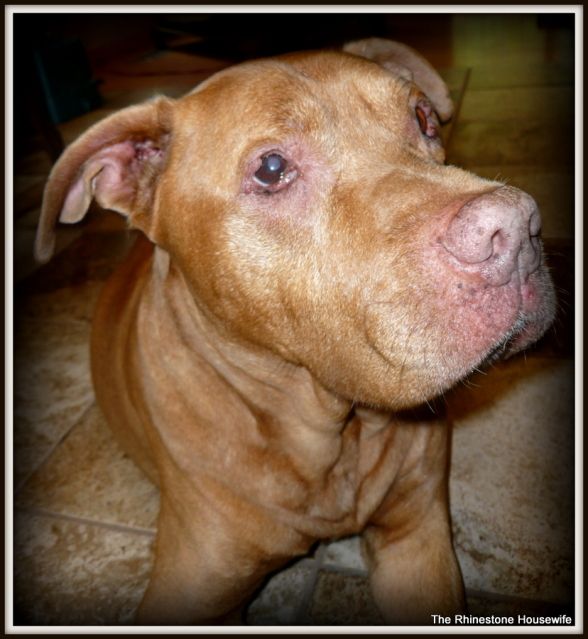 Here he is swimming (he has to wear the doggie donut because his head weighs so much he'll sink!) lol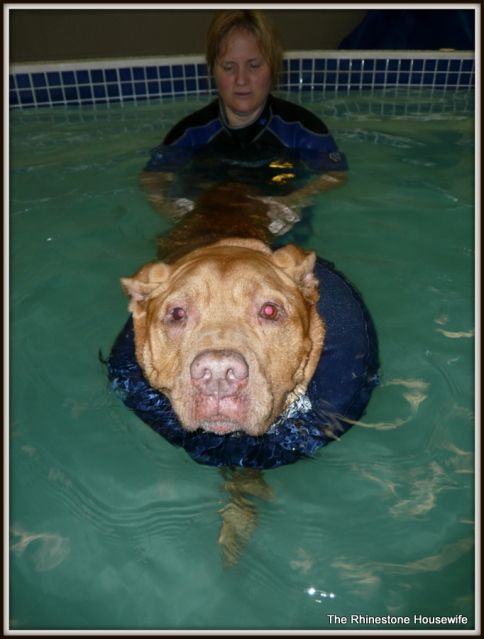 Fergus came to me about two weeks after I lost Big B and I honestly think Buford sent him to me because he knew Fergus and I needed each other.
So those are the dogs! I look forward to getting to know everyone and if anyone has any questions, please don't hesitate to ask.