Well the Brown Stick Dog has been here for a few weeks now. In that time, he's grown and grown and grown. He's over 30lbs now and already as tall as Savvy (about 17"-18"). He's going to be a Big Brown Dog!
In so many ways, he's a really great puppy. Drivey but sane, excellent impulse control (may have overdone impulse control a bit, it's his default for everything now LOL), very willing and devoted. He's a happy, goofy, dorky, wild boy Belgian. He needs to be loved and touched and to sit on your lap. He is such an easier puppy than Savvy, although part of it is probably he's what I'm used to. He and Savvy have become friends...mostly. Savvy can be a bit overwhelming and the Brown Dog can be a bit guardy about his toys but otherwise, they play nicely and keep each other busy. He acts like the resident Belgians in the house, funny to see them all laying on the couch plucking hair off fuzzy toys together. Or all getting snarky over the same stuff with each other. The older girls say they are the snarkiest of snarky and Pup and Savvy are like "okok we didn't want that toy anyway...".
However, he remains a somewhat no touch sorta guy with strangers. I have hope for him because he's not what I would call a reactive dog. I can and do take him in public without a problem. He doesn't hackle up and bark or lunge at people. He is perfectly content to ignore strangers and focus on me. He'll take treats from people who offer them...usually but immediately re-orients to me. He can work fine in public, play in public and hang around. It makes me a bit sad because considering how generally sound he is otherwise, I think better socialization at an earlier age would have made all the difference in the world for him. And he makes friends with people in his own time pretty quickly. He loves everyone I work with and they can do anything to him without a problem - pick him up, lead him around, scold him, etc. It's just his initial meeting. He has signs of lack of socialization like he alerts to ever day things sometimes. Like barking at trash cans or park benches the first time he sees them. Afterwards, he always is willing to investigate and recovers easily from being started. He is extremely sound about weird surfaces, loud noises and stuff moving which is great. People ask me, "what has happened to make him this way at such a young age?" because he is overall such a nice dog. My reply is usually that Belgians can be weird and they're not a breed that can just go without socialization. So, we continue to work on being more socially acceptable. He has improved leaps and bounds from when I first got him.
Some new pictures from my phone:
Can this puppy look any more dorky?
Apparently he can!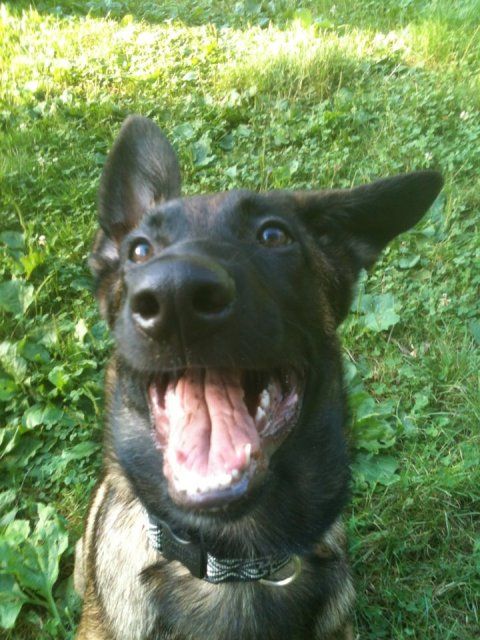 His ears needed a little help. He hated it and it was a PITA having to retape them every time him and Savvy played but luckily it only took a few days!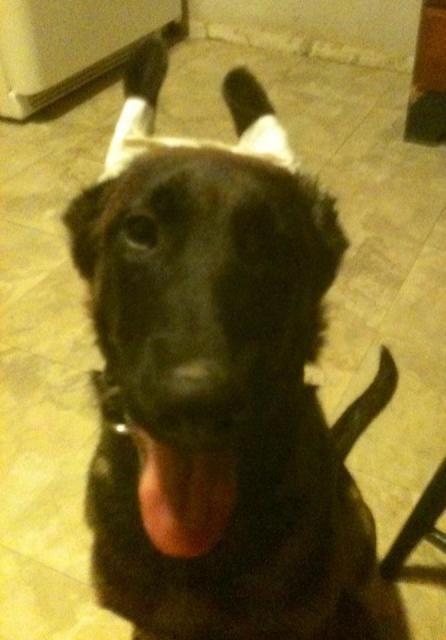 Potty break at work. Or to Pup "tug on your leash and attack sticks break"...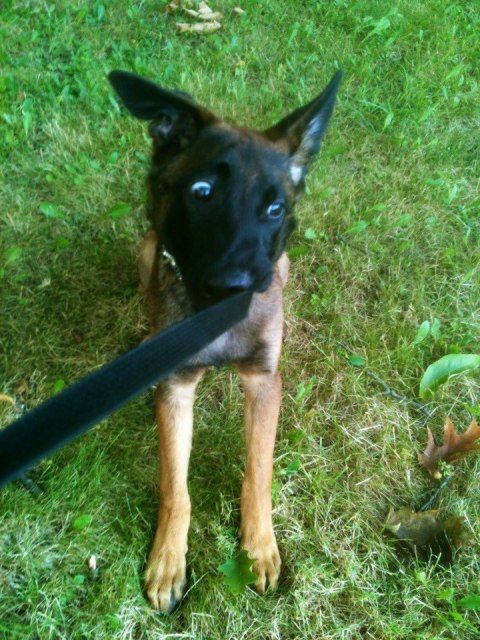 Wrestling with Sav under the tub at work. Two monsters in a cave.
Running!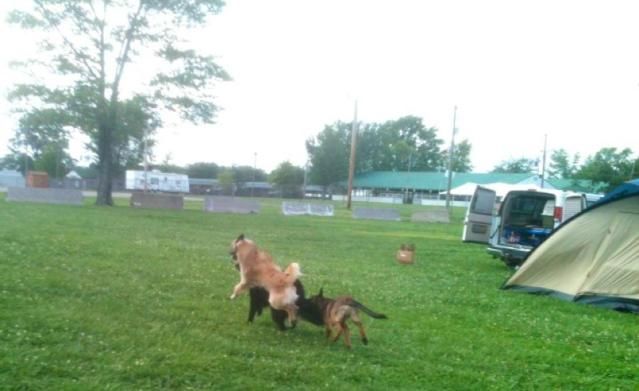 Full Contact Chase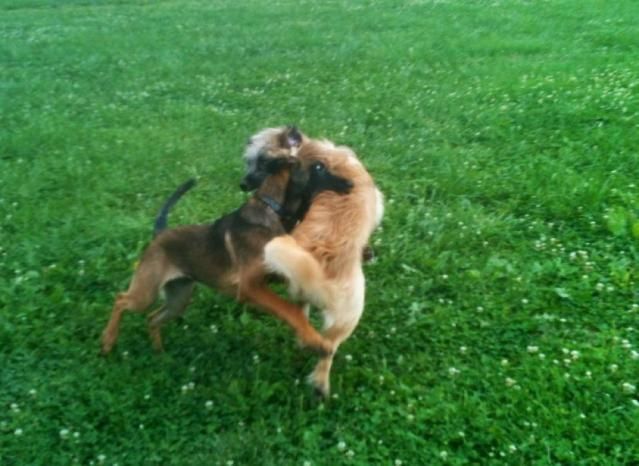 Sleepy Pup-Pup