IT's that time of year for Art Unleashed fundraiser for the Greater Kansas City Humane Society.
I hopefully have three, but these two are ready to go and going to get in by the deadline for once which is in two days. Taffy will just have to be late so she probably won't be on the website. I do hope she fires well for the auction. She is in the gas kiln now.
Here is Sleeping Pointer and Old Dog with a Heart of Gold
i wanted to express my sincere appreciation of our seniors and what a glory they are in our lives.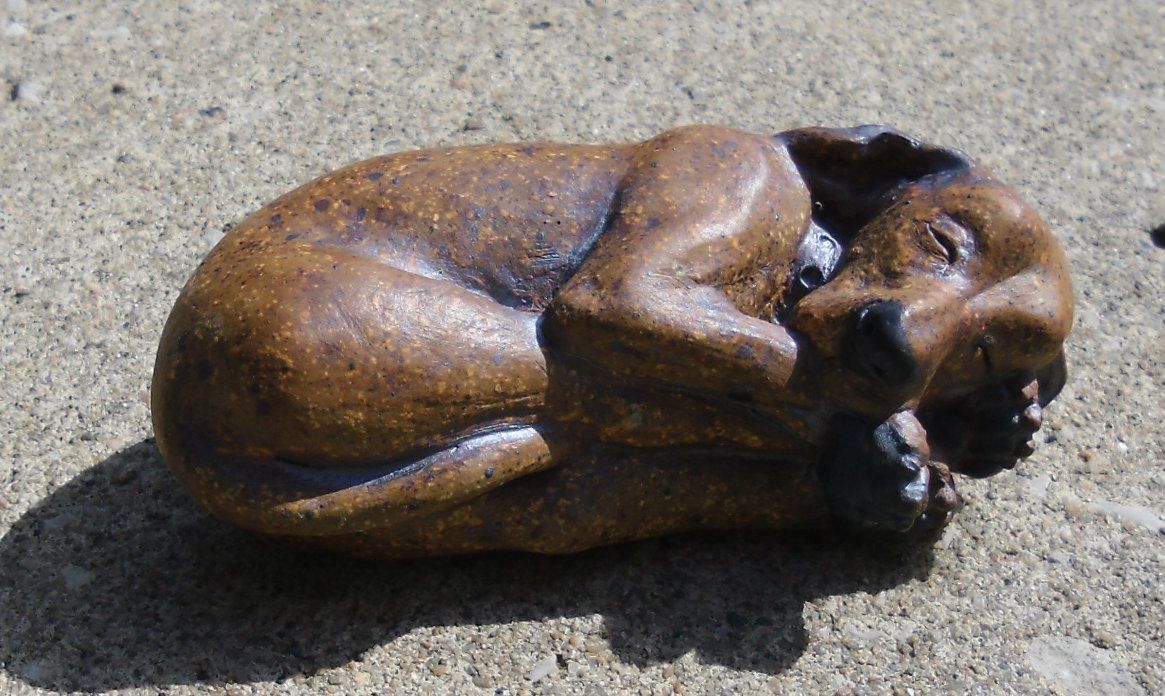 Sleeping pointer is white stoneware and red iron oxide fired to cone 10 in a gas kiln
This old Sweetie is white stoneware with as much mica as I could get the surface to take fired in a raku kiln to 05 and then touched with a torch to lighten around the eyes and muzzle.
Taffy...I have my fingers crossed for you. She bisque fired without a crack. I used iron oxide on her and made her bowl Zak's blue. I hope she works because Taffy is one of the dogs up for adoption and they really encourage the artists to do these dogs and cats.
I finished this for the third time to replace the broken top of the Totem I donated last year. They had moved the totem to a more public place in Crown Center. In the process they snapped the leg of of the top. I put my heart and soul into that totem and did not want anything glued on it, so I made it once again, for the third and hopefully forever last time. Will deliver on the ninth.
Off my desk and off my conscience. Yay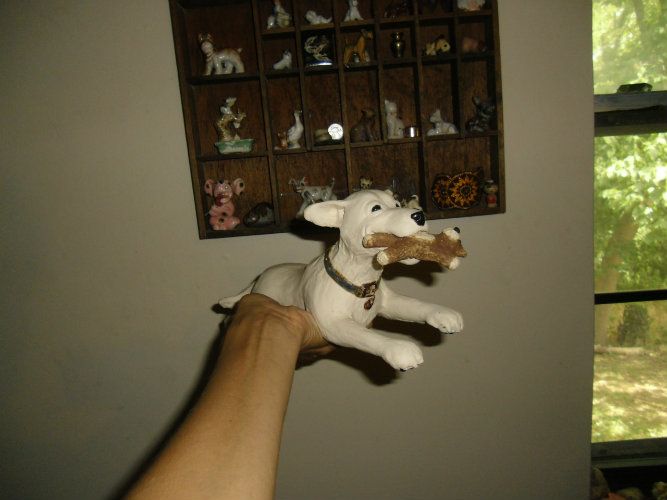 I will come back to this thread when the Auction is over. This is I think my 10th year but it might be longer, I have lost track. This is my gala event of the year. I try to give them my very best to show my gratitude for all their good work, and the not for profit clinic that makes it possible for me to have my dogs and Sancho. They sure helped Neccy and kept it down to where I could help her too. THere was no one else that would have been there for us.
I might throw in a bird, haven't decided yet.