---
Well, everyone has definitely made me feel better. Had I known this perfectly average pre-teen girl was going to flip out, I definitely would have put both dogs in a down-stay while I fetched the kitten. And when the girl did react, it happened really fast, and I got eevee away from her as quickly as I could.

Someone on another forum told me it was my fault the whole thing happened and I "let Eevee become a victim" because I walked past this normal-seeming girl on our own property and one of my dogs happened to sniff on the way past. That felt more offensive to me than what I said to the girl. It rather hurt. I guess I'm supposed to leash my dogs on my own property on the very off chance that a guest is going to suddenly have an irrational fear of dogs...

Don't get me wrong, when I'm out in public with my dogs, they are leashed and I don't let them just approach people. But we were on our private property and just happened to walk past. I don't think I could have prevented that, because I Just had no idea...

Can't wait to leave...
__________________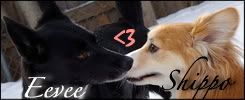 Eevee
14-year-old
F
Border Collie Mix -
My Heart Dog!
Ravinel Fox Magick, CGC (Shippo)
8-year-old
M
Pembroke Welsh Corgi
Cheetah's Training Blog