I was at the dog park today, and I saw a blonde Aussie. She looked to be out of non-show lines. She could have been out of working lines, or BYB- she looked sort of like a Mini Aussie mixed with a Golden. She was probably about 21" at the whithers and probably about 45lbs (she was tubby). She had one blue eye, and one brown. And, strangely enough, she was the colour of a Golden Retriever.
Think this: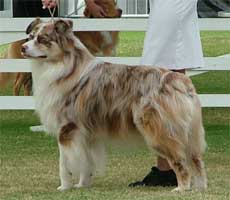 In this colour (with the same white markings as above):
I asked if she was purebred, and her owners assured me that she was. They said the rest of her litter were red merles, and she's retained her blonde coloration since birth. Now... the rest of the litter were red merles, which suggests to me this might have been a merle x merle breeding. It still doesn't explain her coloration - she had minimal white markings on her.
So, colour/genetic nerds, any idea what might have been going on for her to express such a golden/blonde coloration?