I think I am even more addicted. We did a local CPE event since I knew it would be smaller and indoors, and we could leave and drive home easily if things didn't go well. We did two runs the first day, a Standard run and Wildcard. We qualified in both and got first place. The next day we had four runs, Standard again (qualified and first place), colors (qualified, second place- I forgot the course for a second :P) and we tried Jumpers, which didn't happen. My boyfriend, who was very patient all weekend with the dog stuff but was really ready to leave by then started taking our stuff out to the car while we were waiting to run. Chekhov saw Matt leave, and was very upset, saw him come back and seemed to be ok. Well when it was our time to run he jumped the first jump, ran right up to the wooden rail looking for Matt, saw him, and then bolted out of the ring, past about 20 people, right to Matt. Came happily strutting back like "look what I found! Let's do this agility thing now!" He was crushed when he realized we weren't going to do anymore agility and that we were leaving. I am hoping he associated the getting in the car and leaving with the bolting off the course. Either way, I'm very happy with the little stinker, we definitely learned that Matt needs to stay out of the picture/can't leave right before a run.
Oh yeah, and the little guy managed to earn two titles CL1-R and CL1-H.
Here are two videos of our first two runs:
http://www.youtube.com/watch?v=VwqdSAOt84g
and
http://www.youtube.com/watch?v=M6EzQ...ture=endscreen
And photos of him showing off his ribbons:
"Majestic" Chekhov: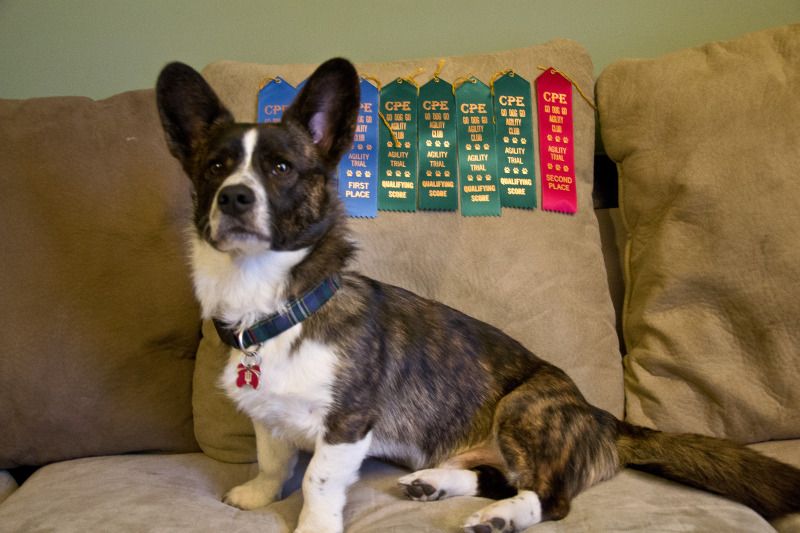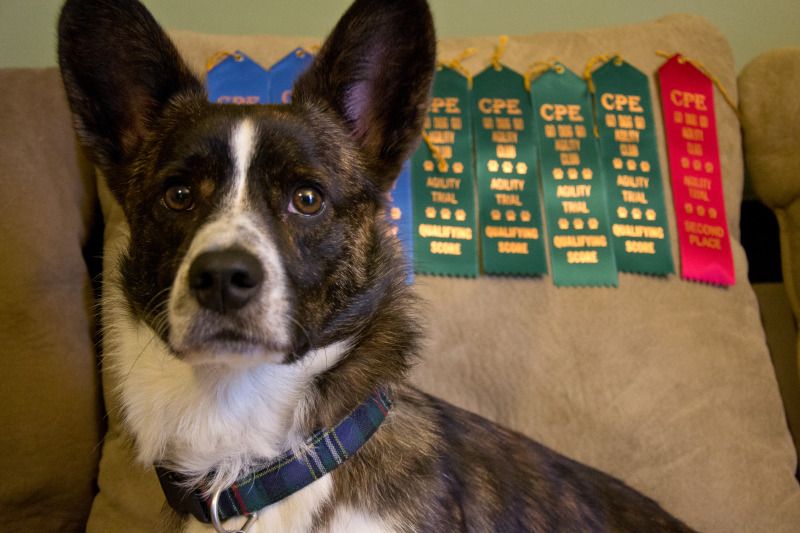 "It's hard being this awesome"