You guys have some beautiful horses there.
Brisa De Heradera
Arabian
Pedigree includes some fabulous horses; Gallero, chavali, Faquih, Nagasaki, Nezabudka, Skipper Mac, Zancuo, Zalema, Ornis, Paita *, Bormi, Sacudir, Nevisca, Arax*, Napersnitsa, The Real McCoy, Farella, Nahr Neytar, Ro Sela.
2 weeks old...mother struck by lightening and she was bottle fed....a very sweet horse.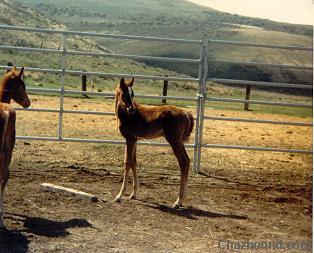 As a yearling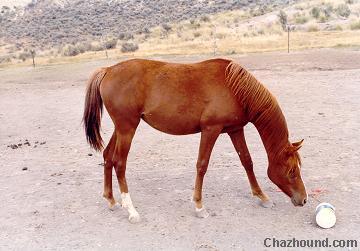 This is our house before I moved to Idaho. It's not far from where I live now. That's my son Brisa is kissing and his Dad holding a fly mask.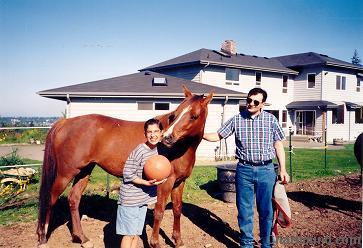 Brisa and Filinha, her half sister...double Galero grand daughters. Both heavily Spanish Arabians, some Polish, Egyptian too. Some of her back ground includes; Rabol, Abugam, Raseyn, Babolna, Abufaddan, Gamul, Skoronek*, Rayya, Pasb Durbar, Pasb Bona, Faddan, Fay UFA, Ameer Ali. Same sire as Brisa...Sandor, a gorgeous horse imported from Spain. The breeder who led me to these horses had Sandor.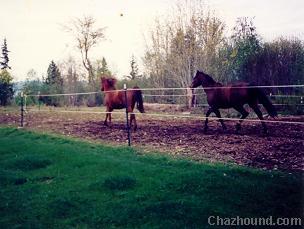 I miss my girls. These were taken a while ago before I moved to Idaho when my kids were young. I don't have any better pictures of them...just VHS tapes. Filinha, the bay was particularly flashy and also super muscled/stocky. Some Quarter horse people would watch her training and said, "Not bad for an A-rab." LOL.
I don't have pictures scanned of my childhood horse.