It's hard to believe I'm writing this. Yesterday, February 4th, I had to make the hardest decision ever, and helped Rascal pass on. He passed at 6:20pm, in my lap.
Rascal was supposed to live forever. He was always there for me, and I can't believe I'll have to go through the rest of my life without him there. He was just... there. All the time. I could come home from a hard day, and he'd be greeting me at the door to his cage, wanting out for a snuggle and a drink from the dog's water bowl. I would wake up and he'd be there. I'd need a ferret for a day, and he was there. I'd bring home some stupid costume, and while he was not happy about it, he would sit there and let me put it on him.
That will all be no more.
Rascal came to me on his 2nd birthday. He needed to find a new home, because his owner's boyfriend was moving in, and needed the room for his fish tank. He told Rascal's owner it was either him and his fish, or Rascal. She chose the fish. That's okay, he was better off here, anyway. His old owner didn't know much about ferrets, and he was not fed the best food, nor was he kept in a very good cage.
We really bonded within those first few months. Rascal was my childhood dream come true -- I finally got a ferret. Not too long after, Allie got Palom and Porom. We just *knew* that Palom, Porom and Rascal had to be best friends. And boy, were we ever right. Rascal and I went over to Allie's shortly after her 2 came home.
All 3 of them took to each other, and planned to dig to China.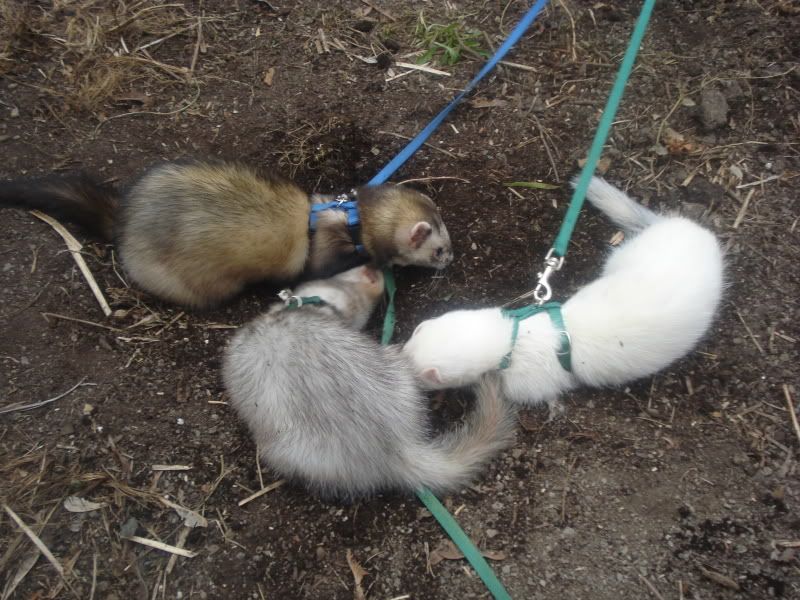 He took straight to Palom.
Porom thought he was pretty cool.
Back at home, of course, Rosey looooved him. He was, after all, her baby.
Soon, we found the Ferret Rescue Society of Ottawa. We started going to their events, and having lots of fun. Little did I know, that this one single ferret would lead me on all the adventures we've had together. We thought the spa days were pretty fun.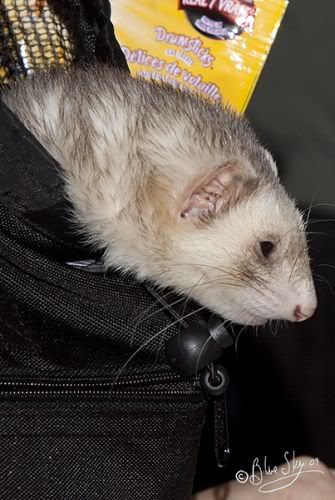 He got used to the whole idea of Christmas, mighty quick. He thought it was pretty awesome.
Eventually, we made the decision to add to the family. We wanted Rascal to have nothing but the best life possible, and figured that meant him having friends at home. He took to them almost immediately.
More