When we got Zen, Doug and I knew we would be getting another kitty in the future. We both prefer pairs when it comes to our birds, cats and such(doggies excluded since we plan to add a third in 6 or so months). Well a friend of ours rescued a small grey cat at the beginning of October and quickly learned she was pregnant. She had 4 kittens in the middle of October. All, including mom did fine. Doug and I fell in Love with this little guy. He has a bob tail(all the kittens did) but his has a very sever kink at the end. Where it completely folds over. It does not seem to cause him any issues but when we take him in for his shots we plan to ask the vet if he thinks it will be an issue in the future since cleaning inbetween where it folds is impossible. If that is the case then we will get the kink removed right away. I think the soon the better if that is the case.
Anyway he is 8 weeks and is doing great. We brought him home last night. Introductions with Zen went fine and they both stayed in the bathroom together. Pax, which means Peace, is leary of Luna. Can't blame the little guy since Luna has boundless energy. Luna is being good though and any time she is hissed at she turns and walks away. Pax warmed up to Sheena pretty fast with only a few hisses. And my goodness Sheena was excited to have a new baby in the house. She is sleeping in front of the bathroom door right now.
So here is PAX our newest and last kitty member for at leat 10 or more years. lol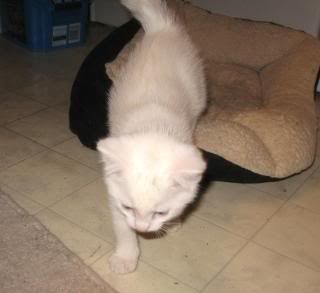 Jumping off his crate that he came home in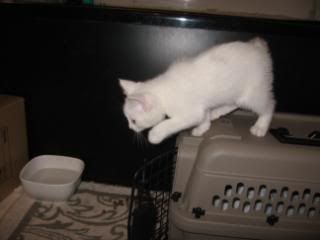 Grooming himself after breakfast and MAN does he LOVE his Blue Wilderness Duck food.
Playing with me and he loves to play, cuddle and give kisses
Here you can see how short his tail is but it is hard to get a good shot of the kink.