To my wonderful little dog,
When I first saw you, it was as though a great big puzzle piece fell into place. It was love at first sight.
I was helpless under the power of your big sweet eyes and your curious expressions.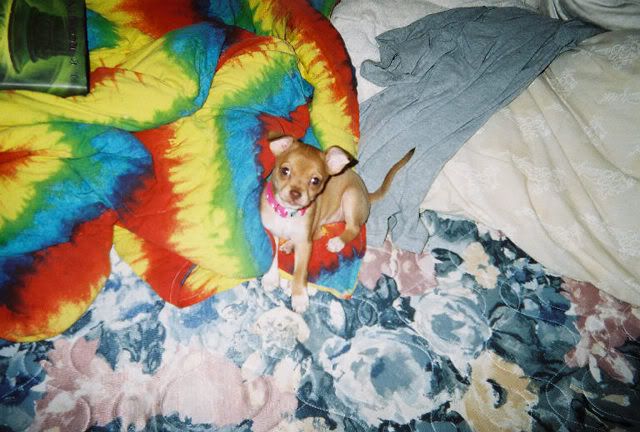 I waited for you. I wanted you since I was 6 years old. You were everything I'd hoped for and much, much more.
I loved watching you grow up. You went through a most awkward teenage phase and you never really came all the way out of it.
You were also the most destructive dog. Nothing was safe in your sight, for it would be chewed up or otherwise destroyed if I turned my back on you for a second. You were so much more than that, though. You were sweet, funny, charming, comforting, adorable, smart, an all around fabulous dog.
I can't even begin to say all the things you taught me. You were the happiest, most naturally cheerful being I've ever had the pleasure of encountering. You loved life, you loved everything. You taught me to appreciate all the small things. You taught me the importance of forgiving, of not sweating the small stuff.
You were the best cheerer-upper. One look at your silly face with it's silly expression could make anyone smile.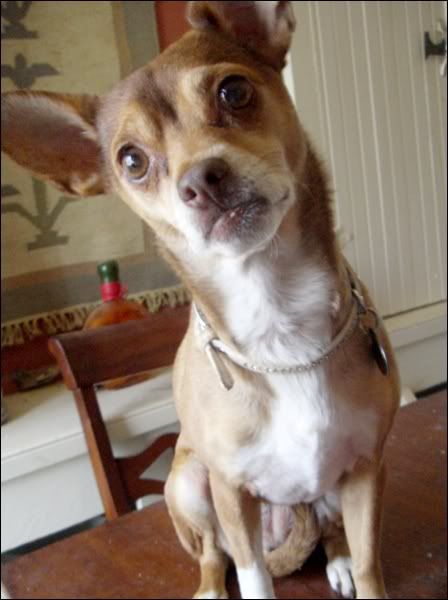 I remember when a friend showed up, and I was so happy to see him- but he ended up asking to see you because he was having a hard day and wanted to hold your wiggly little self.
Nothing is the same without you. Everything is wrong. It's so quiet.
I miss your silly little grin. I miss the way your lip always got caught on your underbite. I miss the sound of you prancing down the hallway- I can still remember and imagine the exact pattern of your little paws. I miss curling up with you at night time, waking up and pulling you closer to me before I could go back to sleep. I still wake up and feel for you, but you're not there. I miss the sound of you and Millie stomping around and playing- she won't play with anybody else. I miss how soft your ears were. I miss kissing the side of your head. I miss how expressive your eyebrows were. I miss how your little brown nose turned up. I miss how the skin between your ears wrinkled just a tiny bit when you put them up. I miss your head tilt. I miss our little patty cake game, where I'd beat my hands like a drum on the couch, and you'd do the same thing. I even miss having to pry you out of the litter box and the trash can, hearing a sound and running to see what you'd gotten into this time. I miss calling you Ms. McGillicuddy and saying, "Luuuuucyyyy, you're got some 'splainin' to do!"
Oh, Lucy, I miss
you
. My chest feels so terribly empty, like there's not even a heart there anymore. No words can express how much I want you back, so I won't even try.
My little girl, you were too young. I'm sorry I failed you, I'm sorry I couldn't protect you.
Wherever you are, I hope you're getting into a lot of mischief, with no one to disturb you from it. I hope with every fiber of my being I see you again.
Run free, my angel.