Saturday, we went to an agility run-through at a farm up in Maryland. It was our first experience in any trial-like setting. (She's only practiced at class and in my backyard until now).
Background: My dog is a spaz. I adopted a VERY drivey, VERY hyper, VERY focus challenged dog. We had to do the first few classes on leash, because if I let her off, she'd chase the other dogs. She's 10000x better now, but is still drivey and loses her brain at times, so I was expecting her to kind of lose it at the run through.
Anyway, I had this whole plan to ignore the obstacles and just work to keep her focus on me in the ring. I had my pockets stuffed with cheese, and my goal was to get her to do a jump and a tunnel in between moments of spaz attacks.
When it was our turn, we entered the ring, I put her in a sit, and took off her leash.
And she stayed.
That's HUGE for her! We ended up running the WHOLE course, and other than popping out of the last weave and ducking the tire the first attempt, she did sooooooo well!
These pictures aren't the greatest, but I don't care. I was giddy all day with excitement about how far she's come. My instructor was there with her dogs, and she said Lucy will be ready for trialing by the fall!!!
Siiiit....staaay....(Holy moly, she's doing it!)
OKAY! (I love how awkward my face is in all of these)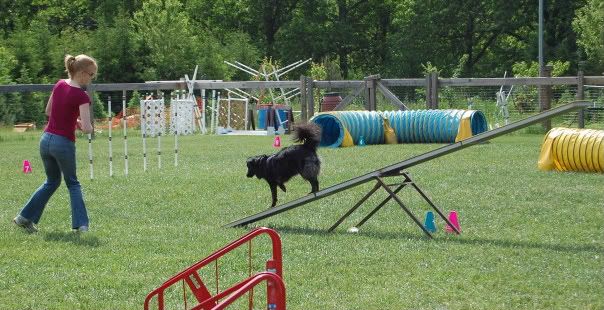 Teeter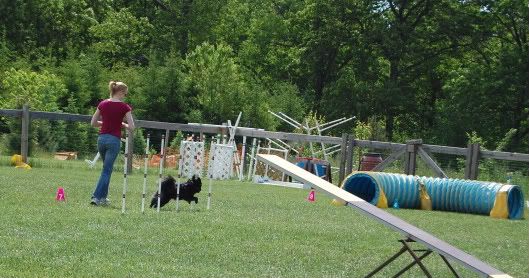 Flying through the weaves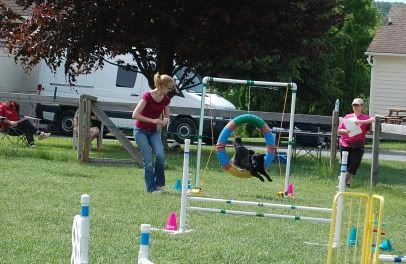 Tire
At the end of the run, the guy who was manning the gate said to me, "WOW! You guys are going to be serious competition when you get your confidence up. She is a fast dog!"
Aaaaaand...I had a private lesson last night, and my instructor said that
Lucy is one of the most naturally talented dogs she's ever seen come through her program
. I know it's silly to be so proud of something I didn't have any control of, but oh my gosh, my heart swelled. Now I just have to fix the last few pieces (some more focus work, proofing weaves, collection on jumps (she wants to extend and run everything at a million miles an hour)).
I have such a good doggy
It's like agility was made for her. (If only it were made for me, too!)