dogs in weddings
---
here is a wonderful place where i don't sound extremely crazy...

Zach and I (no, we're not getting married anytime in the near future) would like Milo and Giselle (his parent's mini doxie) to be the ringer bearer and flower-girl at our wedding.

We are keeping in mind that: Milo would like to use Giselle as his new chew toy and take all her stuffing out, and Giselle is not in a million years going to walk down the aisle (or do anything unless it's on HER terms), and also Giselle barks incessantly at every dog she sees and whatever food she wants or chair she wants ON or person she wants to pet her and is going to be the biggest princess in the room whether or not she's wearing the wedding dress (Yes I plan on competing with a 7 lb dog for attention on my wedding day)

Has anyone been to or heard about a wedding with dogs at/in it? How did it work? Did someone walk with the dogs down the aisle? Were they at the reception AND ceremony, or just one? How big/well trained/calm/ etc. were the dogs? Where was the wedding/ceremony? How formal/casual was it?

We're thinking we would have to designate a "babysitter" for each one to keep them happy/behaved/where they need to be. Probably someone would take either one or both of them home afterward, or they would both be leased and kept on opposite sides of the room and we would have the option of bringing them somewhere else should the need arise.

Just wondering if anyone has experience with this and if you think it's a good idea, doable, etc.
__________________
"My favorite color is green, green like newly cut grass. When it comes to green with envy, though, you can stick it up your @ss!" ~ Grammy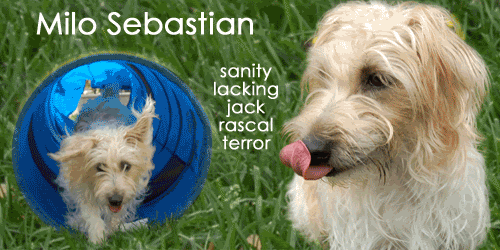 http://www.adorablebeasts.blogspot.com