Shutup Whisper!!
---
Omg, this dog won't leave me alone recently, she wants out to the trash, and I put her on the longline to go out, and she keeps buggin me to go out!! She wants in the trash, its trash day. So I just put her in her crate for now. Shes getting to my edge of nerves. Love her to death, don't get me wrong on that, but omg! Her behavior is on my nerves! She sometimes doesn't tell me when she needs to go out anymore. Completely my fault right there. But that is sometimes, so now were back at square one making sure she doesn't potty inside. Shes normally out of her crate, like 24/7. But recently I haven't trusted her that much so she is in her crate when I'm at school, or gone until she relearns going outside, and is completely reliable on it again. Shes just a noisy, annoying dog sometimes. And her name is Whisper... lol Love her to death though. Thanks for letting me vent about Whisper. Shes a high-energy dog, and shes been extremely lazy, and all of it is built up, and coming out in annoying squeaky barking. ug, I've gotta a pounding headache today, thats more than likely why its on my nerves.
__________________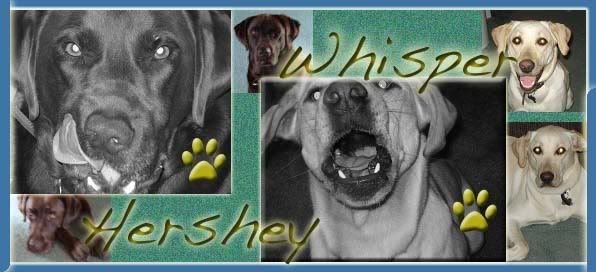 Thank you Christine!
A Dog is like an eternal Peter Pan,
a child who never
grows old and who therefore is always available to love and be loved
~Aaron Katcher~
"There aren't any bad dogs, there are only bad owners..."
Off of the Movie Underdog