Hello all my name is Mindy I joined this forum about a year ago and I didn't get to really enjoy this place because I moved and lost my internet connection. My brother took over my computer while I was moved out and erased all my bookmarks so I've been slowly building these back as I find them once again.
Lets just say it's been a real trip from family turning on my boy friend and I on valentine's day to me moving out that very day. A horrible boss/landlord that made Freddy from nightmare on elm street look like a teddy bear with her 7 unruly dogs. To a wonderful new place without a landlord around and joining of a new furry member added to my crew. I'm 22 years old I was a dog grooming and due to my boss/landlord I gave it up due to her mood swings, poor pay, our living condition, and cutting of my hours. I now work at factory making turkey bacon and hope that maybe this year or next I'll be making another move out of this state and away from the turkey bacon.
So enough about me on to my crew of wacky job animals. First off my chinchillas or boychicks as I call them. First off there is Tigger who is 8 or 9 years old that is blind in one eye. Then Chilli who is 3 years old and is just a food maniac that craves for belly rubs or chin rubs. Together these two can get in a mess of trouble from destroying water bottles, plotting to escape from their cage, and what ever they set their evil little minds too.
Next off is Blue a 5 year old german shepherd/ husky mix that I found him on petfinder. Hee was found in Kentucky someone drop his mom and siblings in a box along side of the shelter sadly one of the pups died. They where moved from high kill pound to a shelter in Ohio. Where I found his page, sent out the info and Valentine's day he was ours. He has blossomed from a quiet dog to a loud mouth that will tell you what is on his mind whether you want to hear it or not. He is constantly following me around, protective, and just a smart learner.
Then there is Cadey a 2 year old pit bull we just took in her owner couldn't have her any more due to hair and his dad just didn't get along with her. She is a ham that wants lovings, her ball, and at times she is air head. She learns quickly just it takes a long time for things to stick in her head unlike Blue.
I also have a cat name Mocha who is 13 or 14 that is a snowshoe/Siamese mix that panics in small areas to point he drools. At this time he is living with my mom due to Cadey kills cats and my ex boss/landlord's poodles and danes.
Well that is my crew sorry for the long post. Hopefully I will get to enjoy this place more when ever I can get on here. Now to see if I can add pictures
Blue's adoption picture
and now at 5 years old
Cadey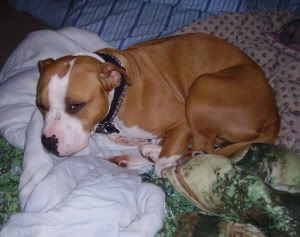 Tigger on the left and Chilli on the right