---
Thanks everyone!

Laura - well you already know something about the breed and that is the correct expression a Great Pyrenees should have. I call it the "melt" factor - meaning you wanna melt into the dog when they look at you like that.

You can also see how Tache is a different "type" of Pyr compared to the other girls. Tache is older lines in the breed that you don't see much of now a days - most of his ancestors are Canadian Lineage who date back to founding stock brought from France. (Most Pyrs eventually will date back to French lines but given the much older dogs in Tache's pedigree it wouldn't take his as long).

Bambina and Page are a good chunk of English lines (Laudley - the equivelent of Rivergroves here in the US).
__________________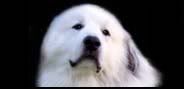 Abstrax Great Pyrenees
http://www.freewebs.com/abstrax