Thank you all for the quick and delightful response to my questions. I search the web for Golden Retrevier and Great Pyrenees pictures. I donít now if the pictures that I have attached below are representative for each breed but comparing them with my dogs pictures I think that is more similar with the Great Pyrenees. So I probably have a shepherd outside my house. I only hope he donít believe that I am a sheep. If you can spare little more time for me I want to ask you some more things.
Great Pyrenees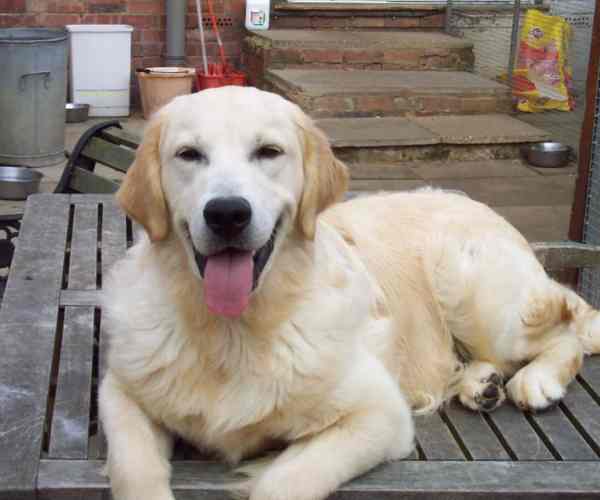 Golden Retrevier
3. Can any estimate my dogís age. I donít have a clue about dogs growth so I canít guess. Now has the size (but not the weight, he is heavier) of a full-grown adult cat. When I took him home, 1 month ago, he couldnít run more than 5-6 meters without a fall although he could walk and stay on his feet still without a problem. Also when he run he used his rear legs together like a kangaroo. At this age (1 month ago) he couldnít concentrate his eyes on something more than 2 seconds and he couldnít lift his head to look at me. Now his ďrunning performanceĒ is better, he can concentrate his eyes on me, cats, or anything he wants and he can lift his head to look at me. But when I am at the balcony and make noise in order to draw his attention the cats instantly realize where I am and start to mew looking at me but the dog start to run here and there searching for me without having the ability to look straight up. I hope this information will help you to estimate my dog age. If any other information is needed I will gladly give it to you.
4. Except his chewing habit around the house he also has a chew-carrier habit. When he sees something that like it, he chews it for a while and then (in some cases not any time) carries it at his doghouse. He has a strange attraction to bones (even if there are several days old so it is a kind impossible to use them as lunch Ė after all he can chew only small bones but carries also big ones at home), leafs and small branches. Why is this happening?
5. Some days ago start to dig a hole and seemed really excited doing that. Why he is doing that? Is a game?
6. My dog is very friendly even when he meets completely strangers without having me at his side. That seemed to me very strange because living with cats for many years I have seen that they are calm only around known faces. When they see a stranger they disappear in no time without waiting to approach to see their intensions. On the other hand the dog is extremely friendly to all. When he sees a stranger he run toward him shaking his tail without any hesitation. So what is happening the intelligent dog donít fear stranger but the less intelligent cats use extremely precaution when see one? I donít want to be extremely protective with my dog but I want not to be so familiar with stranger. I donít want to attack any stranger he sees but not to approach him. How could this happen? He will understand the dangers as heís growing or I have to do something?
I hope that you donít get tired with my many, and probably silly to you, questions.