Dog reactivity progress :)
---
I've been working really hard on Sierra's dog issues (with Kerri, who rocks big time!!)

Today was the first time I've seen any real progress, but I was THRILLED!

A big black lab came into the store. She's had issues with this dog before, and we've worked directly ON her issues with this dog before (focusing on me, lots of reward for good behaviour, ignoring bad, etc.)

Sierra snarked at Raven, but almost immediatley snapped out of it, came to me and sat, focusing right on me!! I of course praised her like CRAZY! I then spent a few minutes giving her and Raven treats together, and when Raven got bored and walked away, she GOT UP TO FOLLOW! No hackles up, no snarkyness, just curiosity. She sniffed Ravens butt, got lots of praise, and we ended the visit on a very positive note.

I'm just so proud that she's showing improvement!!
__________________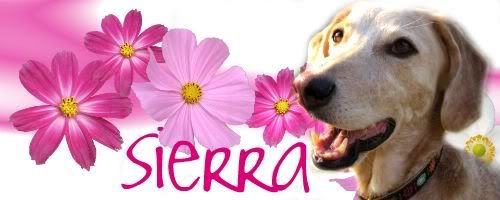 Julia: Mom to Sierra (adorable mutt - Basset x Cattledog is our best guess these days) Buddy (noisy but awesome DSH tabby cat) and Carter (adorable human baby) RIP Nya 1994(?) - 2010