Quote:
Originally Posted by
RedyreRottweilers
You can also get a loop lead. I use these in the show ring. No snaps to come undone, since I am handling the collar all the time when showing a dog.

Do keep in mind that if an incident HAD happened, that you (your parents) would be held liable, and Whisper could lose her life had she bitten that child.

This is a very serious issue, very serious indeed. Your anxiety relating to her behavior travels right down the lead, and will make her even more insecure and reactive.

Honestly I would recommend you working with this dog only under adult supervision and inside a fenced area.

JMO of course.....
I know that this could have lost her life, if she bit her. I'd hate to say this, but my family really not liking her wouldn't help much. My grandma loves Whisper, my brother hates her, my mom likes her, and bruce doesn't really like her. Of course I love her, and is why I am gathering info how to train her, and work with her.
My goal is to get her CGC. Hopefully. My parents think its ridiculous to train her as much as I have. They think I've went up and above to train her actually. Thank you everyone for the useful information. I will use it, and update you guys on how she is doing. Oh crap... I just realized.. After I typed this. She hates people with long hair!
She did this to my friend's guy friend who had long hair........ Eep! I think he does the 3 leaf plant too.. And she remembered it. This little girl had long hair. But the thing is, my friend, (a different one) has long hair too, and she didn't care. A sober friend with long hair. I'll need to get her out to more places with long haired people, and kids. I thought you guys might need that bit of info so that we could get a good idea on what to do. I'm somewhat surprised she doesn't like men, because of all the stuff my brother and bruce do to scare the crap out of her. I tell them, and tell them not to do it, they do it anyways.
I'll get to training asap. I have 2 months of free time!
So, get her out in parks, and public places with people, right? And then a better leash that won't come undone. It is a horse leash, I think I might have slipped my hand down to much, to have control of her going by the horses, and the house. But still need to correct the behavior. Thank you everyone!
__________________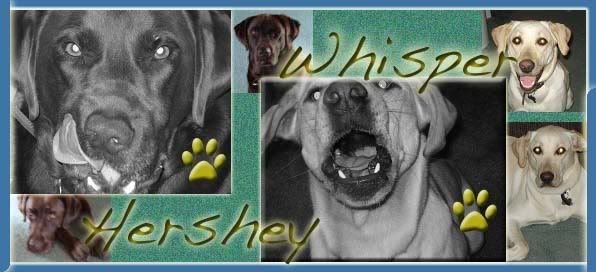 Thank you Christine!
A Dog is like an eternal Peter Pan,
a child who never
grows old and who therefore is always available to love and be loved
~Aaron Katcher~
"There aren't any bad dogs, there are only bad owners..."
Off of the Movie Underdog