I think this is so eerie. This is one of the dogs on the SPCA of Northern Virginia website up for adoption. They say he's a beagle/shepherd mix but I think he looks so much like Maggie without the stripe on her nose.
Oliver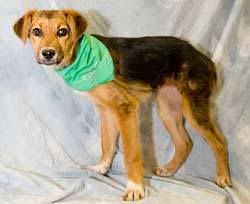 Maggie when she was at the shelter
Maybe it's just the scared look in their eyes and the tail between their legs but I think their ears and tail are alike too.